If you're a bit interested in connected sex toys (or your pleasure ), you couldn't miss the vibrating egg. It's a great classic, nothing new under the sun… Finally, with one crucial nuance: Few vibrating eggs can boast of being remotely controllable from anywhere in the world AND discreet AND powerful.
This ambitious promise, the Lush 3 of Lovense tries to full fill it. This connected vibrating egg has just been released, and is the third edition of a best-selling toy that is already very popular with long-distance couples. So what is this 2021 update worth? Is it as effective as it claims?
We were lucky enough to be able to test this ultra-powerful connected vibrating egg created by Lovense, who sent us a copy so that we could test it. The opportunity to find the answers to all these questions.
Here is our opinion after an in-depth test of the Lush 3.
( Note: the writing of this article is not remunerated by Lovense. Our opinion is therefore 100% honest, and we will discuss the qualities of the Lush 3 as well as its faults )
Lush 3, Best remote controllable vibrating egg? Test and Reviews
Introduction – Connected vibrating egg: what is it? For who ?
The connected vibrating egg is a sex toy very popular with women. The principle: a vibrating toy that is placed in the vagina, remotely controllable. And that, from anywhere , from a smartphone application.
Once in place and turned on, this is where things get interesting. You can control it yourself of course… or let your darling control it (it doesn't matter if he's across the room, or across the world)
Connected vibrating egg: And the Lush 3 in all this?
This vibrating egg is an improved version of Lush and Lush 2, two absolute bestsellers from the Lovense brand (and renowned for their performance). In other words, our expectations are high!
Power, public play, noise, product quality: we test everything about this excellent model, and we tell you.
Technical characteristics of the Lush 3 by Lovense
Here are, in my opinion, the most interesting features of this connected vibrating egg for women:
Remotely controllable from anywhere with a laptop
Ultra-powerful vibrations
Full of features via the Lovense app (ex: synchronization with music)
Designed for public play, and therefore quite quiet once placed
Waterproof: it can be immersed in water (IPX7 standard)
What are the differences between the Lush 2 and the Lush 3 from Lovense?
This third edition of "Lush" has received several improvements:
Improved lifespan: +1h30 more autonomy compared to the Lush 2! (For a total of 5 hours of autonomy)
Redesigned charging port for greater simplicity: it is now electromagnetic
Better connectivity
A fixed tail, so the toy stays in place
Let's get to the numbers
From its height of 7.5cm (for 9.6cm in width), the Lush 3 has an insertable head that measures 3.7cm in diameter
The highest sound level is only 43 decibels .
This vibrating egg has an impressive autonomy: When it is active, the charge will last between 4h30 and 5h of use (depending on the power of vibrations you use).
It takes about 85 minutes for a full charge.
First impressions of the Lovense Lush 3: our review
Delivery and appearance of the package
For once, Lovense parcels are always discreet. And that's good. It was delivered in a very common package, which does not indicate that it comes from a brand of sex toys. Neither the sender's name nor the package itself is suspect.
The delivery itself only took a few days to France, and in the Covid period, it is very appreciable.
Note: We shipped directly from Lovense, not a 3rd party supplier. If you choose another supplier, the appearance of the package will be different.
Packaging design: simple and elegant
As usual, Lovense offers a clean and luxurious box design. It's not only pretty: it's also functional, and can be used to store your toy.
Unless of course if you prefer to use the cover included in the box, provided for this purpose!
This high-end packaging includes a fabric pouch to store your Lush 3, the user manual, and a charger included.
Unboxing the Lush 3: my hot review
The vibrations are really very powerful. I always test toys in my hand to see what they are capable of before trying them out for real. This one left me with a feeling of ants in my hands as the intensity is high!
I really like the design of this sex toy, and its very soft silicone surface. Once again, the quality of Lovense products does not disappoint. Its shape is particular, with its characteristic bump.
I also appreciate the fact that they thought of putting a button on the toy so that it can be used without a smartphone. When you need to turn it off, or don't need the remote control, it's good to have an alternative.
Compared to other vibrating eggs I have had, it also has a larger size. Whether it's for better or for worse remains to be seen.
Complete Lush 3 test: Opinion after several uses
What sensations does this 3rd edition of Lovense vibrating egg bring?
The Lush 3 is an extremely powerful sex toy. And it's for the best: the sensations are there! The maximum levels are very intense, too much for my taste to be maintained over time. But that leaves room for short bursts of intense pleasure, which is really great.
The external "branch" is appreciable because it also vibrates a little bit. It doesn't seem to be done on purpose at all, but when it is well placed, it can come and stimulate the clitoris while holding the toy in place… and for my part, I find that it brings a little extra
A little confidence between women : I have already been disappointed in the past because of a vibrating egg that was too weak for me to really feel pleasure. I almost wondered if it was my body that was screwed up
If you are in the same case, know that pleasure can be learned, regardless of your body and your sensitivity. And that all sex toys are not equal (both in quality, in power, and in cost). In any case, don't let a bad experience prevent you from trying others, which could open the doors to a lot of fun.
>> Learn more about the Lush 3 <<
Portability of the Lush 3 and comfort of use
Before wearing it and connecting it, you have to successfully insert it, this vibrating egg
And… it pays to be a little prepared. The insertable head is slightly larger in diameter than other vibrating eggs. Nothing is impossible, far from it, we are talking about 3.7cm. But it is better to take the time, lubricant if necessary, and not force the passage like a brute!
Important clarification of the instructions: Use only water-based lubricant. Do not use silicone-based or oil-based lubricants, which would damage the Lush 3.
Lovense offers some on its site > here
So we take the time to get into the bath. And that's good: The Lush 3 offers a whole bunch of powerful vibrations, which you can use to stimulate yourself a little ( or a lot ). No need to insert it right away to feel pleasure: your clitoris will thank you for taking your time.
Once inserted, then the real question arises: Do you feel the Lush 3 when it's inside? Having tested, I am pleased to tell you that the answer is no!
This connected vibrating egg is great to wear. whether you are standing, sitting, lying down: it is not likely to come off on its own , and is not uncomfortable. It is also very discreet under clothing.
Using the Lush 3 in water
As this vibrating egg is waterproof, it was essential that we test it immersed in water! Just by placing it on the surface of the water, you can immediately see the strength of the vibrations.
Once in place and in the water, the sensations are quite similar, even a little amplified by the ripples of the water.

Small obvious clarification: it is better to insert the vibrating egg before going into the water. Otherwise, the body retracts, and it's mission impossible
Lush 3 Public Play and Noise Reviews
We get it: this toy is effective, but is it silent?
At first glance, no. When you have just taken it out of its box, the noise even seems quite significant (except in the first levels of vibration). But once inserted? It changes the situation completely, and the noise is ultimately very reasonable.
The Lush 3 produces up to 43 decibels at maximum . For comparison, it is the noise of a quiet outdoor location (street with few people). What that means is that yes, inherently the Lush 3 is a bit noisy in the mid/high levels but … it's easy to cover it up
Indoors, just put on the television or music to mask the noise. That said, if your walls are soundproofed well enough, to have tested… you can't hear anything from outside the room! ( Otherwise and without anything to mask, it is possible that we can still hear it a little )
When used outdoors, however, the Lush 3 is much more discreet ! You don't realize when you're outside, but there's always ambient noise which covers the noise well. Used in crowded walkways, close to a road, even the loudest levels can be reached without suspecting it.
Verdict: Lovense has yet to achieve complete silence with this toy, but it does come closer than its competitors in this market! The Lush 3 remains very discreet, and is completely silent in an outdoor place with a little noise. Just as it is impossible to hear it outside your bedroom if your walls are soundproof enough.
Remote control of the Lush 3: Best connected vibrator for women? 
Long distance control (= miles apart)
Long distance control is very easy to use with the Lush 3. This feature requires a laptop (or a Bluetooth adapter for your PC, offered by Lovense)
Both must install the "Lovense Remote" application and be connected to the Internet. You add your partner, you connect your own sex toy via Bluetooth to your phone, and the other can take control!
A video call system and a chat system are integrated into the app: you can therefore see your partner while controlling their vibrations
Note: You don't both need to have a connected sex toy to take control of the other's.
Short distance control (= a few meters from each other)
The short distance control of the Lush 3, in Bluetooth, is just as nice (or even more) long distance mode! But hey, for sure, having your boyfriend a few meters away is always better, and not always possible.
And for people in a long-distance relationship who read me and who say to themselves that this function will not be of any use to them… You do not think enough about reunions
It can be a very nice experience to try for two at this time, whether to have fun outdoors (in public or not) or just at home. This connected vibrating egg is very powerful and can be used for foreplay, during lovemaking or…just like that, to be activated by your partner at random times of the day!
My boyfriend also has a connected toy, which allowed us to annoy each other. I recommend 100%! It's an experience worth trying, it's fun to use the remote control and see each other's reactions
Lovense + Lush 3 app: lots of features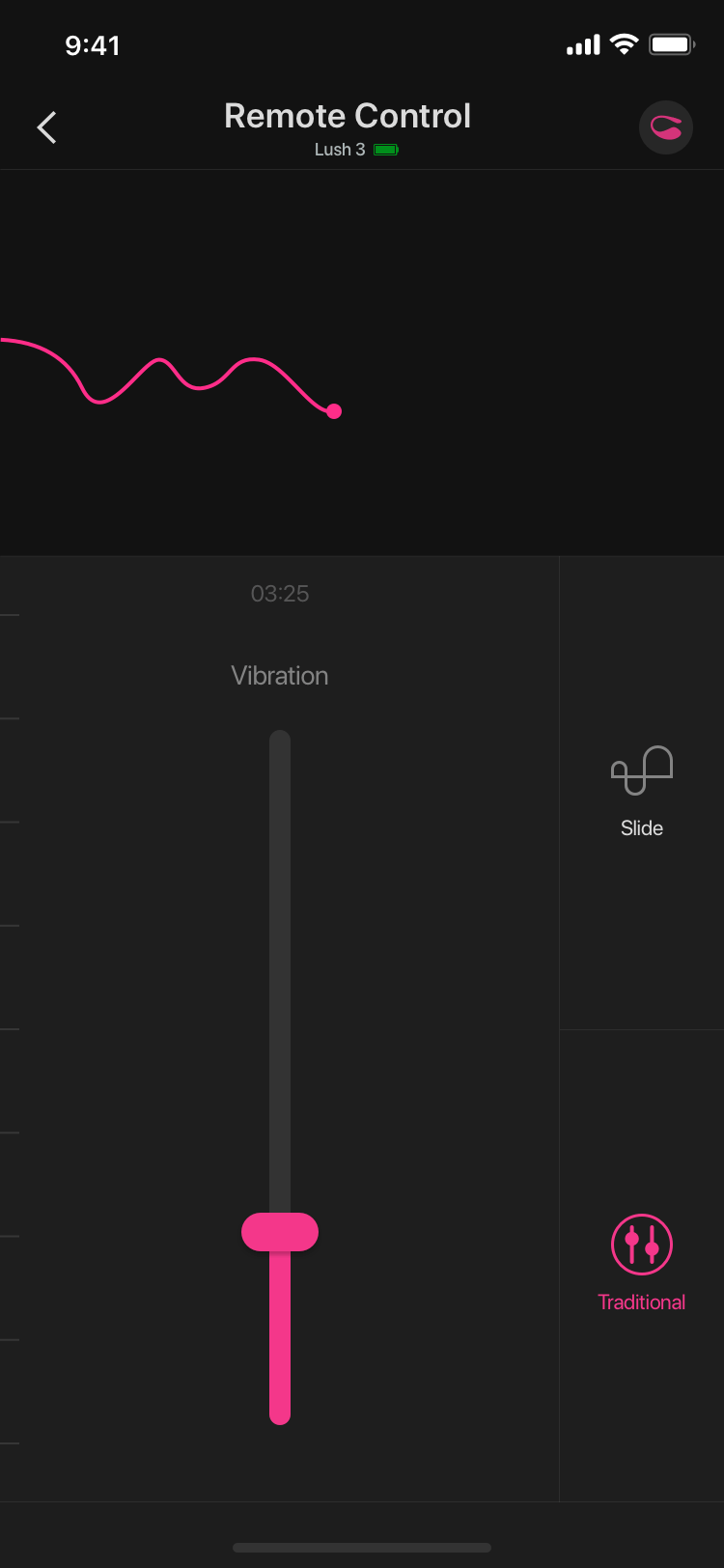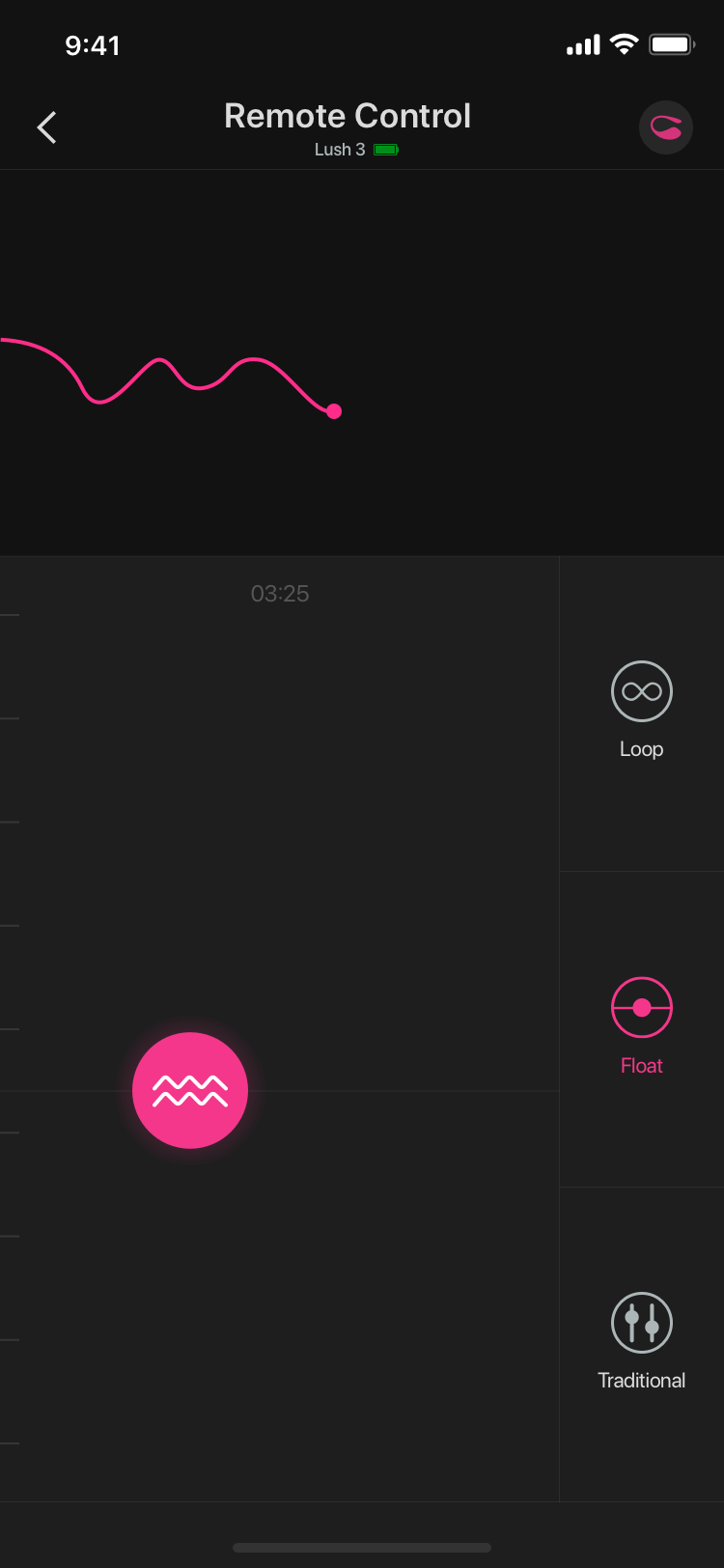 The Lush 3 being a vibrating egg controllable via mobile, it therefore needed a mobile application. The one created by the brand, Lovense Remote, is very easy to use. And yes, it may seem "boat" to say, but as this is not the case for all their competitors, we appreciate it!
Inevitably, the mobile app includes a "remote control" mode that allows us to directly control the connected vibrating egg. (with the nice possibility to create "loops" of vibration patterns)
But wait, we'll save the best for later…
Best features of this app for the Lush 3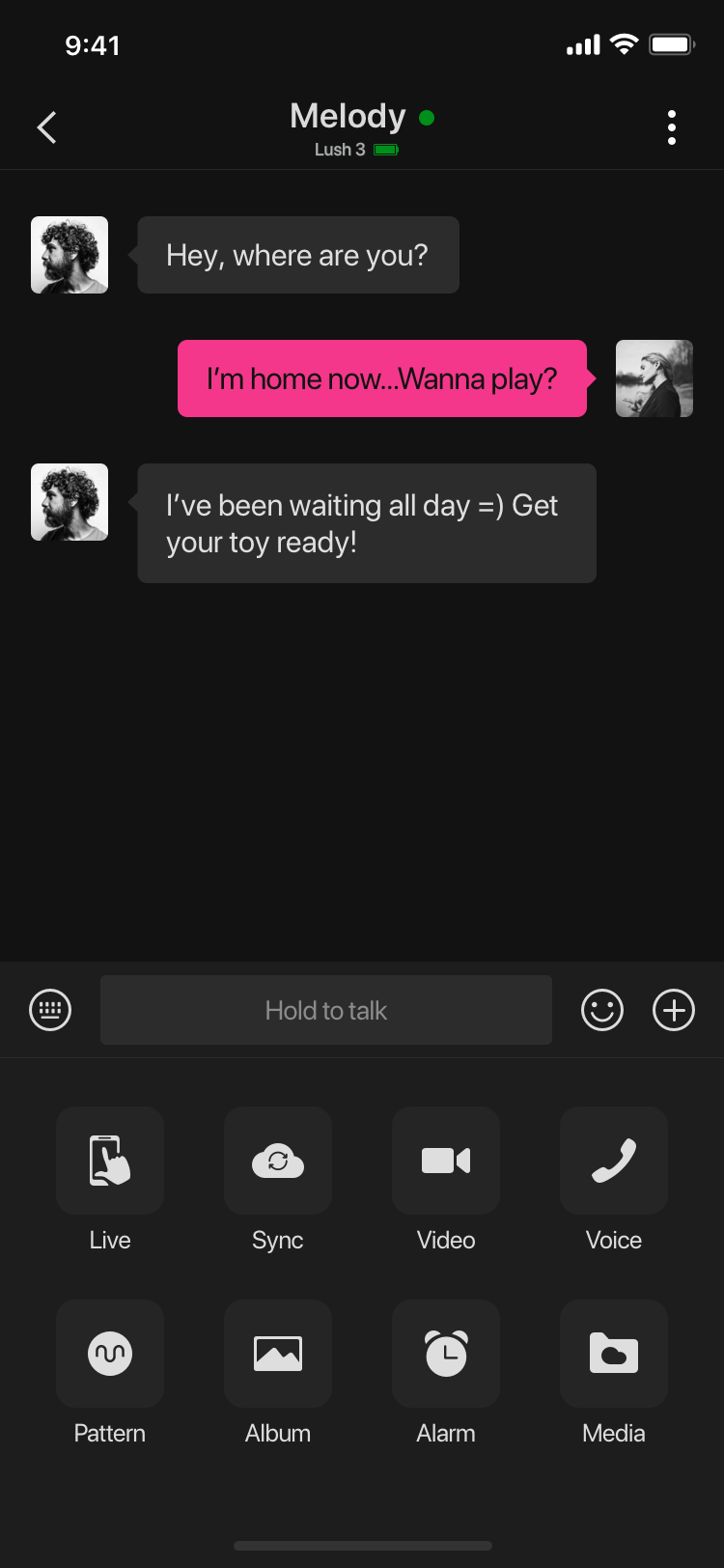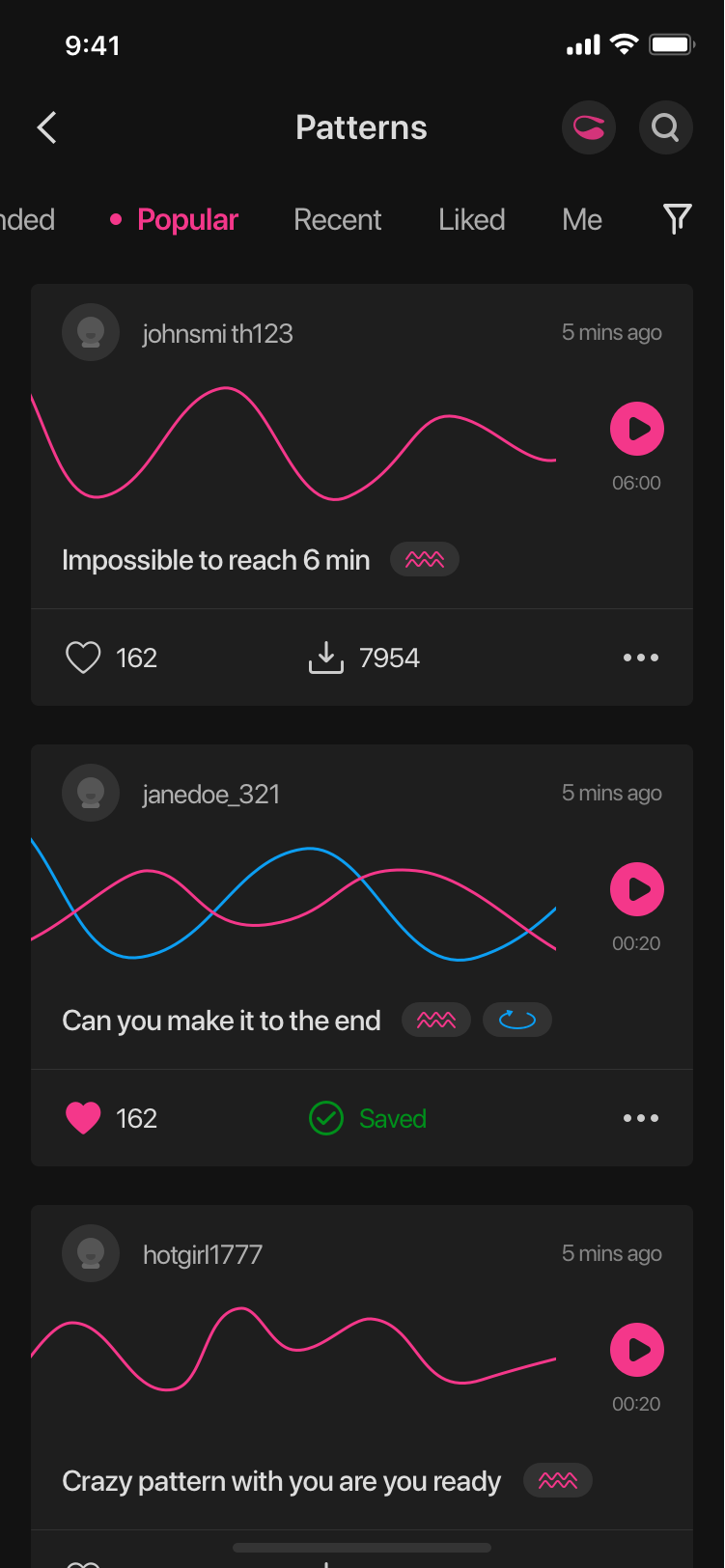 The app also has other great features. Here are a few :
the alarm (= program your toy to vibrate at a certain time)
patterns (= download vibration patterns created by other users, which can last 10 minutes or 1 hour)
synchronization with music
And of course: Remote control of his/her partner's toy (or the possibility of giving him/her control)
Tools to communicate with your boyfriend/girlfriend remotely: chat, video calls, etc.
Synchronization with music is particularly nice, but is only done with a Spotify Premium account or with music already downloaded to your laptop. So I downloaded my favorite songs to do the test… and it's very successful! The vibrations are in rhythm with the sound that we hear, sometimes with some small inaccuracies.
And as said earlier, the application also allows you to manage the vibrations of the Lush 3 thanks to a remote control system.
It was a great bonding moment with my boyfriend. He loved having fun playing with the vibrations. And since he also has a connected sex toy… I gave him back
Review: Advantages and disadvantages of the Lush 3
Here is a small summary of the qualities and defects of this connected vibrating egg.
Advantages :
Ultra-powerful, intense vibrations… and effective!
Excellent quality, soft silicone toy
Once placed, is very discreet depending on the ambient noise of the environment in which you are
The Lovense Remote app that brings great features
Very nice long distance game, short distance game more
Disadvantages:
Even though it is much quieter than its competitors, the toy still makes quite a lot of noise in the middle and high levels.
Needs preparation, but that's normal. Remember to favor a water-based lubricant like the one offered by Lovense, so as not to damage the toy
Not yet 100% silent… but we're getting there
Conclusion and rating given to the Lush 3
This sex toy connected to the very powerful motor and excellent autonomy will seduce many couples, remotely or not… And makes you want to be tested and retested in different situations as it brings new experiences
Score given to the Lush 3: 4.7/5
Ultra-powerful, controllable from a mobile phone, discreet in public: this connected vibrating egg 100% deserves its bestseller status. Very versatile, we particularly appreciate its intense vibrations, and its autonomy up to 5 hours which has never let us down. In short, a nice update of an already cult product.
The Lush 3 is ideal for remote couples looking for a first connected sex toy to test remote sex. Or for couples who want to experience the game in public. More experienced women will love it for its "versatile" and truly powerful side.
>> Order on the Lovense website <<
Something to make a great gift for your girlfriend remotely, or for yourself (because yes, even solo, Bluetooth control from your laptop is great!). If the vibrating egg is a great classic, it's not for nothing after all
Thanks to Lovense for allowing us to review this great product. We are curious to see which of their models will also be entitled to such a quality update in the future.
For my part, I loved testing this connected sex toy… And my darling too!
And you, what do you think of the Lush 3? Do not hesitate to let us know in the comments!